I've been so crazy busy this week! I've talked a little about how my work process goes, basically we work in 3 week "sprints" where each of us has an assignment for those three weeks and then we release our software at the end of the 3rd week. Last week was "release week," which is always somewhat busy, but then when this sprint started, I'm the "disturbed," which means that I'm in charge of our day to day production support so that the other developers can work in peace. It's been busy, so I haven't been able to catch up on reading blogs and the other things that I usually do during downtime. Plus, Todd and I are in the midst of remodeling our kitchen (yay!)
So, what I am thankful for this year.
So much has happened this year! Gosh, how can I not be thankful for my trip of a lifetime to
Indonesia
? Three weeks in the South Pacific, I think about it pretty much every day, and I would love to go back someday. Todd and I get to go to so many amazing places, and I am forever thankful for that. This year, we were also able to make our annual trek to Little Cayman for our second anniversary.
Awesome.
Of course, there's Todd. We've had more than five years together and two years married, and he is the most awesome, incredible, terrific thing in my life. I mean, think about any adjectives that mean "wonderful" and they'll describe Todd :) He's always there for me, being an amazing husband and I am thankful every single day that he's a part of my life.
And of course, I am thankful for The Bug. He's doing much better and is hopefully recovered. We still haven't heard back on test results, but hopefully Friday.
My health, my family's heath, it's all so important. I'm thankful that I have a job that I enjoy with co-workers that make me smile. I'm thankful that I get to run with terrific people, and of course that I'm able to run. And I got into the New York City Marathon this year and ran a terrific race! How cool is that?
And I have to add the more "materialistic" stuff... :)
We're getting new countertops! Yay! And we just bought a new fridge, it was delivered on Tuesday. We're slowly making our house a home, and this year we've pretty much finished our dining room and for Thanksgiving we'll be using our new dining room furniture for the first time! YAY! YAY YAY!
Here's a weird one - I am thankful for my 9 year old car that is still running strong after more than 150,000 miles.
In all, what a terrific year and I have so much to be thankful for.
Happy Thanksgiving everyone. I'm hosting a lovely turkey dinner with my family. Here's to health and happiness!
(I'm thankful for someecardds, which always makes me laugh)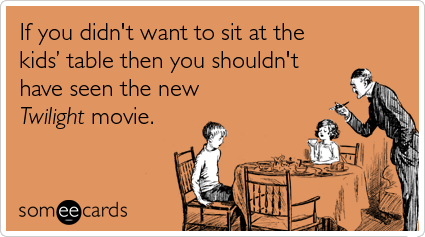 If you loved this post and want to read more, Follow me on Facebook!